Two day training course in Melbourne at the Venetian Plaster Academy on Venetian Plaster and Istinto products. The cost is $1760 and the price include $500 worth in Tools, Catalogue and Sample boards.
In the training course we will teach how to create Smooth, gloss and high textured finishes in many different techniques to produce the most recent trendy creations to suit the Australian fast growing demand for such product. We stock the worlds number 1 Venetian Plaster product Giorgio Graesan & Friends, This course is unique because of the variety of product, colours and artistic finishes we combine together to achieve what Architects and Interior designers ask us for the last 10 years. Our experience of 30+ years in the industry and 12 years in Australia training Artisans is the best you can get around the Continent therefore you can be assure you are going to learn the best way to make Venetian Plaster and more then anything Istinto with its unlimited technique .We are looking forward to meet you and for you to be part of the biggest official Australian Artisans network…..with passion Mario Speziari.
Day 1 :
Theory and technical product information

Explanation of surface preparation

Application of the first coat of products
Day 2 :
Application of final coats

Burnishing, polishing and waxing techiniques and practice

Introduction to advanced artistic painting over completed finishes
Finish techniques covered during the Venetian Plaster Course:
After the Venetian plaster training, each person will produce six sample boards to take homes demonstrations.
We'll also introduce and demonstrate how to make travertine finishes, bamboo finishes, aged stone finishes and how to use some of the decorative special paints.
The cost of the program is $1,760 and includes:
Giorgio Graesan product brochures (7)

Certificate of completion
Two Day Advanced Venetian Plaster Course
Please Contact Us If You Have Any Questions About The Availability Of Our Artistic Polished Plaster And Venetian Plaster Training Classes And For Any General Enquiries.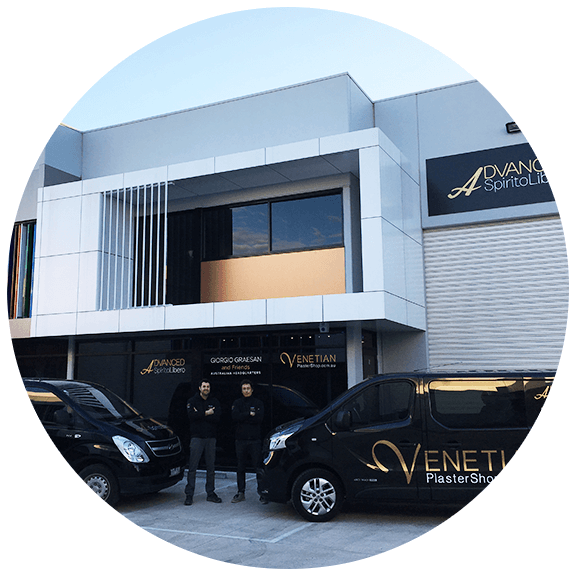 our office