Four days Bathroom training course in Melbourne at the Academy of Advanced Spirito Libero on Venetian Plaster, Istinto and microcement products. The cost is $2420 and the price include launches and drinks, ongoing support, and a certificate of completion.
In the training course we will teach how to make over real size Shower a carrara marble look ,concrete look, natural finish and many different and trendy techniques.
We'll explain how to make Microcement on floor from start to finish and also we'll make 3 different effect with this troweled on super resistant product for big area floors and furniture.
Advanced Bathroom Training only Available to participants who have completed the introduction to Venetian Plaster course first.
Day 1 :
Theory and technical product information

Explanation of surface preparation

Application of the first coat of any product.
Day 2 :
Explanation of Microcement on floor.

Tinting and measuring all the products for the day after.

Application of 2nd coat in some shower.
Day 3 :
Theory and practice of new artistic technique.

Final coat application with Microcement.

Burnishing the finished product.
Day 4 :
Sealing the shower and floor with specific waterproof product.

Introducing the new Epoxy sealer for vertical surfaces.

Explanation of Pricing and final picture with certificate.
Finish techniques covered during the Bathroom Training Course:
After the Bathroom training course, each person will receive the certificate of achievement from Advanced Spirito Libero.
Drinks and launches will be provided during the whole sessions.
The cost of the program is $2420 and includes:
Certificate of completion
Four Day Bathroom advanced training course for professionals
Please Contact Us If You Have Any Questions About The Availability Of Our Artistic Polished Plaster And Venetian Plaster training Classes And For Any General Enquiries.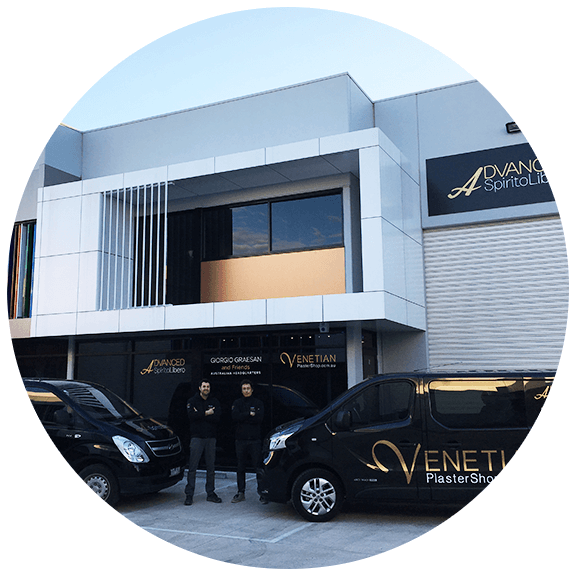 our office